The importance of backing up your WordPress website for your courier business can hardly be exaggerated.
Just like saving your work when you are writing a paper or a report is crucial, backing up your website regularly is just as crucial, if not more.
In a world driven by technology you always want a backup for your system, documents, or database.
In the transportation industry, websites are used for providing pricing information, accepting bookings and payments among other things.
Modern web software and web hosting companies take many precautions to protect against data loss, however mishaps and attacks are still possible.
Having a solid backup process and schedule will protect you from a number of scenarios such as:
A corrupted database due to a server failure
A software error
Accidental deletion of files
Malware or virus infection

In all such scenarios and more, having a backup of your site will help you restore things almost immediately without minimal downtime and minimal effort.
In this post, we will learn about a backup, things you should do to prevent your website from going down, and the method using which you can backup our website.
What is a Backup?
A Backup simply means keeping a duplicate copy of all the files and database for your website. This includes your website theme, site files like plugins and your blog posts, users, comments and so on.
You could save copies of these files to your Google Drive, Dropbox or any medium that you feel is safe and secure, such as an external hard drive.
Prevention is Better Than Cure
As the popular saying goes, it is better to take steps to prevent a situation rather than treating it afterwards. For your website, you must implement enough preventive checks that stop a situation from occurring when you will need backed up copies of your site. Here are some steps that take a minute but when done regularly keep your website safe and secure.
Update your themes and plugins as and when they become available.
Use strong usernames and passwords. "admin" and "password" should be avoided at all costs.
Use a managed hosting provider which includes backup and website recovery as part of the service.
Backing Up Your Website Using All In One Migration Plugin
Plugins allow you to add multiple functionalities to your website. One such useful functionality they provide is backing up your website. There are many backup plugins available to WordPress users. Each offer different ways to backup a site. Some are free while others are paid. Some are very popular while others are slowly gaining ground.
However, one extremely popular and reliable plugin, and the one we recommend whole-heartedly, for backing up and exporting your entire website in a matter of minutes is the All In One Migration plugin. With over 2 million downloads, it is widely considered a safe, secure, and efficient way to export all of your website's content like database, media files, and plugins to a selected location.
When working with our clients to help set up transportation business websites or carrying out a TransitQuote set up service we always work offline so we can fully test any system we deploy without affecting the live website.
We have evaluated many of the top backup plugins in the WordPress directory and All In One Migration is hands down the simplest and easiest way to completely backup or restore a website in just a few steps.
To give it a try simply follow the steps below.
1. Log into the WordPress dashboard for your site.
2. Go to the Plugins menu and click Add New.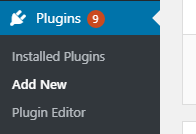 3. Type "All In One WP Migration" in the Search field.

4. When the plugin appears in the search results, install and activate it.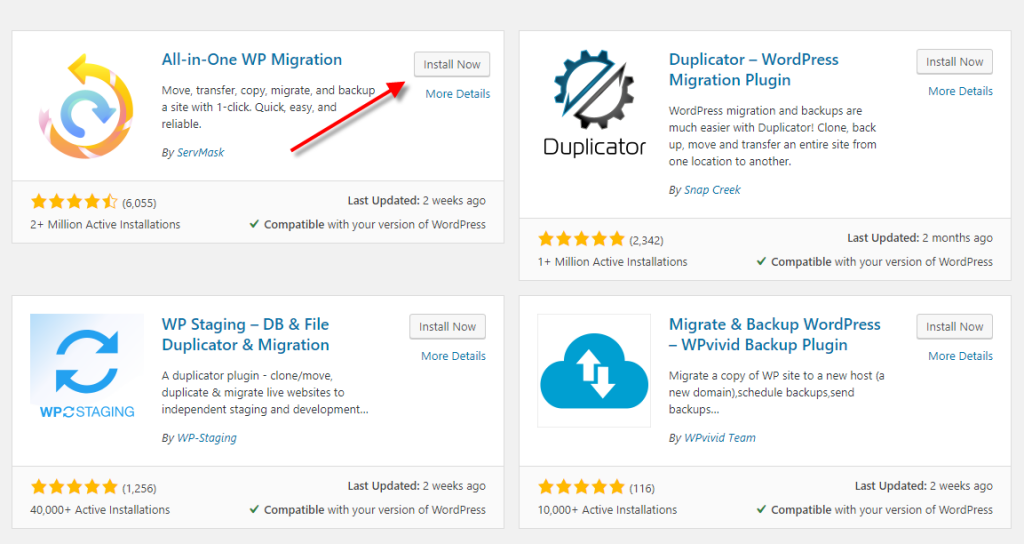 5. From the dasboard select All In One Migration > Export and select the To File option to make a complete backup. You can also use the Advanced settings from the screenshot below to omit unnecessary data such as spam comments.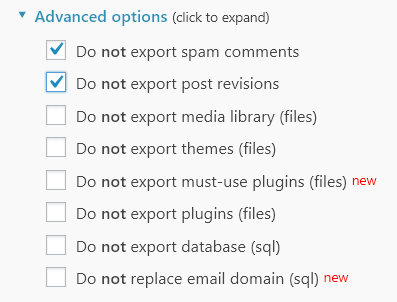 When the export has completed, you will have one large backup file on your computer.
There is a useful YouTube tutorial here which demonstrates just how simple this is.
Backup to Multiple Locations
A robust backup strategy should include storage of your backups in multiple locations.
Performing the manual backup described above will produce a local copy of your website, but what if something were to happen to the computer that stores your backup files?
To reduce risk further we recommend you back up to a Cloud platform such as AWS, Dropbox or Google Drive.
All In One Migration has a number of paid extensions for backing up your website to these services.
Backup Schedule
It is important to have a set schedule for backup up your website.
The more often you back up, the smaller the amount of data that will be lost should something happen.
If your website does not have any dynamic content – for example a business card type website that only shows contact details, then you could back up only when the website changes.
Smaller businesses that only receive a few online bookings per week would be fine with a weekly scheduled backup.
If you have a busy courier website that recieves many customer requests per day we recommment an automated daily scheduled backup.
Scheduling your backup process will only take a little of planning and effort to set up but can save you a lot of headache and anxiety in the long run.