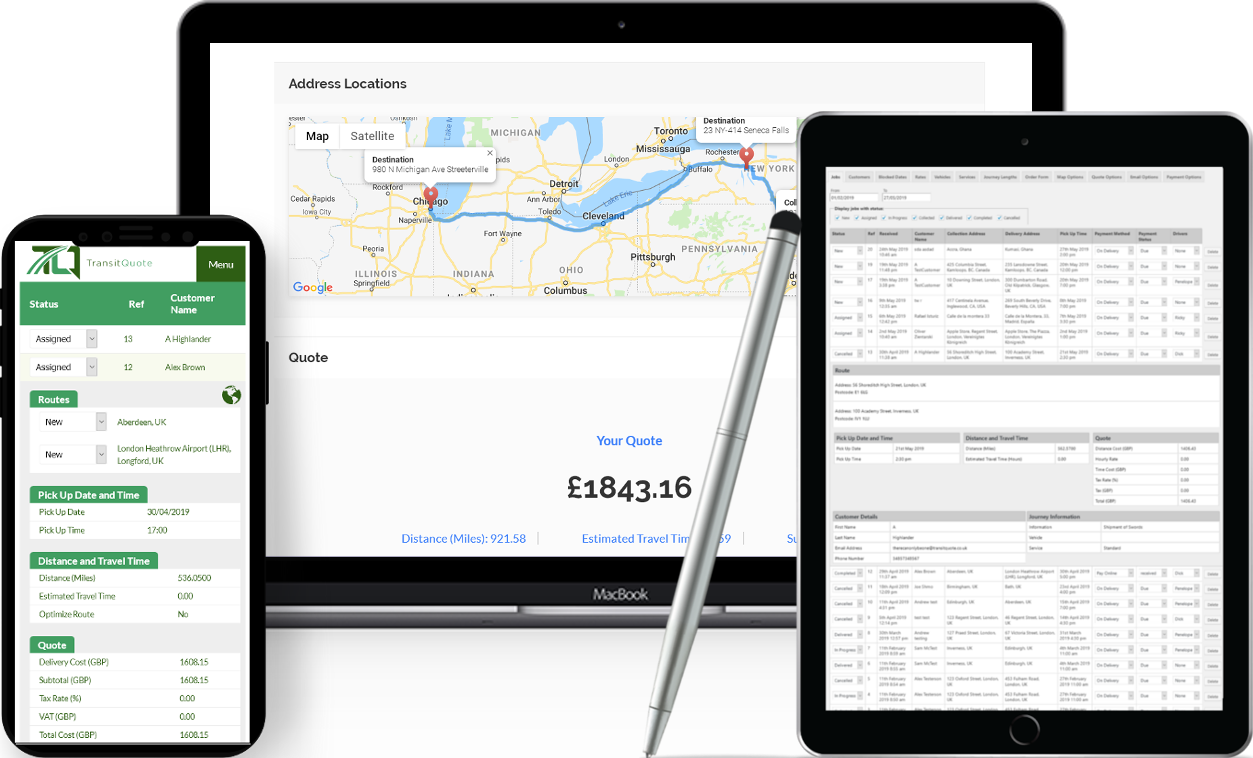 TransitTools is a new software bundle which gives customers access to all of our WordPress plugins and add-ons.
Feedback from our customers has driven the development of TransitQuote since the beginning.
The original plugin was developed to help speed up website development for local delivery businesses such as couriers and removal businesses.
Since then we have had customers from a wide range of transportations industries all with differing requirements, including:
Couriers
Removal Businesses
Limo hire
Freight tranportation
Waste transportation
Medical rescue
Food delivery
Tourism
Travel planning
On Site Entertainment providers
Local service providers
In order to keep TransitQuote Pro simple and easy to use we no longer add every feature to the core plugin.
To make sure we can cater to all customers we have started to build add-on plugins with features that are more specialized or are only relevant to larger businesses.
Add On Plugins for TransitQuote
Building add-on plugins help us speed up development and testing of new features.
The following add-on plugins currently available are as follows.
Core features of TransitTeam:
Provides a mobile freindly job list and job sheet for drivers or team members carrying out jobs booked with TransitQuote Pro
Admins can add, remove and update driver / team logins
The job status can be updated by team members via the mobile job sheet
Core features of TransitTrack
Add an order tracking form to any page on your business website
Customers search for their job using the job reference number
The job status is used to generate an attractive progress bar showing the progress of the job
Can be combined with the invoice view shortcode to show customer full job details after the enter their reference number
TransitTools – All In One Package
TransitTools is a new bundle which contains all our software including the core TransitQuote plugin and all add-ons.
Subscribers to the TransitTools package will also recieve access to all future software and online services that we release
The price for TransitTools is $69.99 per month if paid monthly.
This drops to $39.99 per month for customers that choose to pay annually, giving significant discount of $30 per month or over 40% cheaper.
TransitTools Free Setup Service
It is very important to us that our customers get as much value as possible from our software.
To help you get up and running as easily as possible, we provide a free setup service for all customers that purchase an annual license for TransitTools.
The setup service includes:
TransitQuote Pro installed on your WordPress website for you
The quote calculator and order form added to the page of your choice on your website
Your business rates set up and calculations tested for all service and vehicle options you offer
Google Map configured with your location
Online Payments via WooCommerce set up and tested
Automated email message text set up to your requirements
Any conflicts with existing scripts on your website resolved
Aesthetic adjustments of fonts, colours or layout to fit seamlessly with your website theme
TransitTeam installed and tested
TransitTrack intalled and tested
For more information about TransitTools just visit the link below.