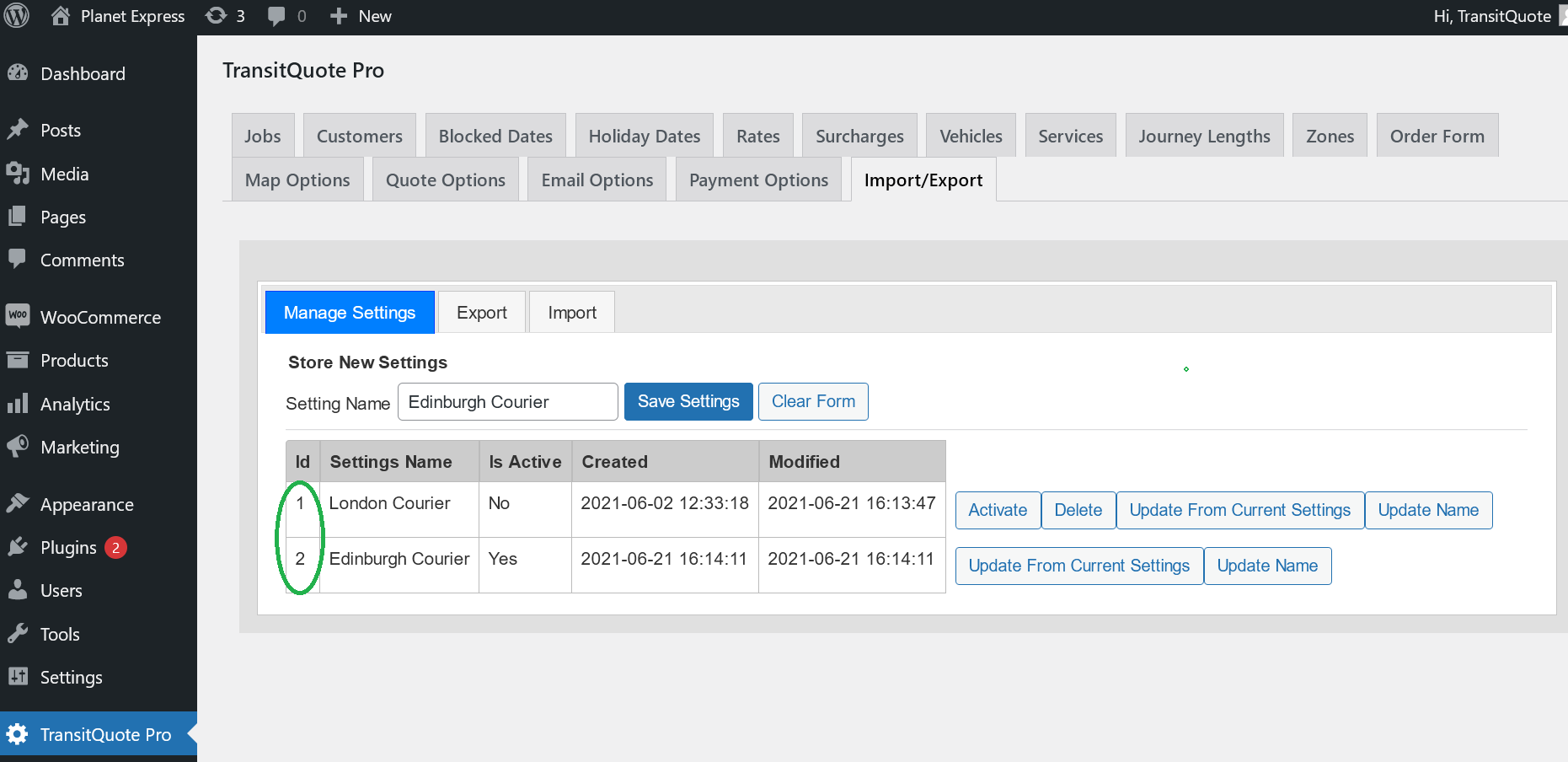 TransitQuote Pro version 4.5.0 is out this week and one of the most important new features is an improvement to the way booking forms are set up.
The aim of the booking form upgrade is to give you more flexibility when configuring multiple booking forms.
Why would you want to set up more than one booking form? There are a number of reasons:
You may offer a number of different services which you would like to market to different types of customer, for example – one form for same day deliveries and one form for office moves.
You may operate out of two or more cities or even countries and would like the map and search results to cover a specific area with a different pricing scheme.
For example if you operate out of London, Edinburgh and Birmingham you can create a form for each city and market the appropriate page to customers from that area.
Not only is this more convenient for your customers but it is also better for search engine optimization when your customers search for businesses like yours on Google.
Each form you add to your website can now have an entirely different configuration. Settings can now be specific to services booked on a particular page of your website.
On each form you can have a different choice of:
Vehicles
Services
Rates
Settings
Which settings can be set differently depending on the form?
Absolutely anything that you can set in the TransitQuote Pro dashboard, including:
Business location
Hours of operation
Country of operation
Distance Unit
All labels and text on the form
Tax rate
Tax name
Route type (bill for return to base, return to customer etc)
Number of pick ups / drop offs allowed
In summary all options in the TransitQuote dashboard can now be specific to any given form you create for your service.
How To Specify Different Settings Per Form
Step 1 is to configure the form the way you need it using all the normal options on the Order Form, Map, Quote, Email and Payment Options tabs.
When you are happy with your form, you can save the settings by typing a name in the Settings Management / Import / Export tab.
Once saved you will notice the settings receive an ID number in the left hand column.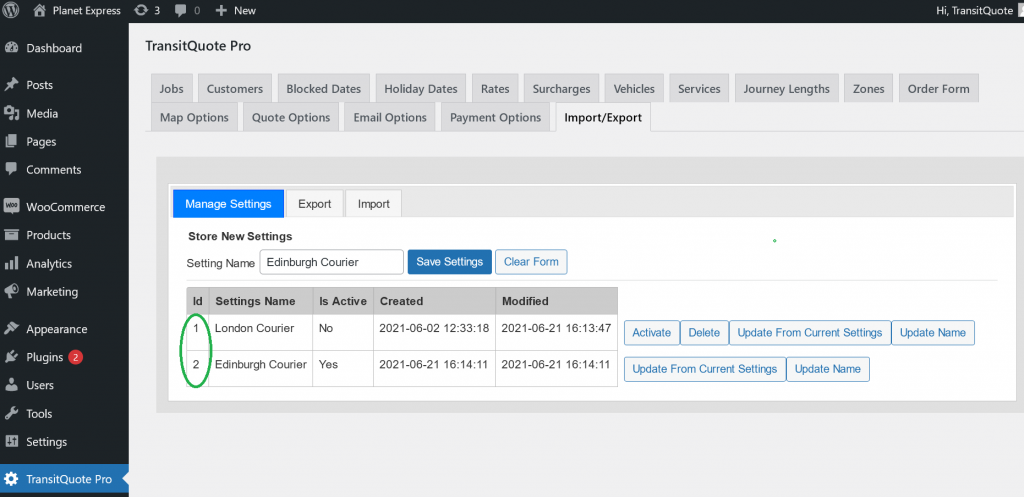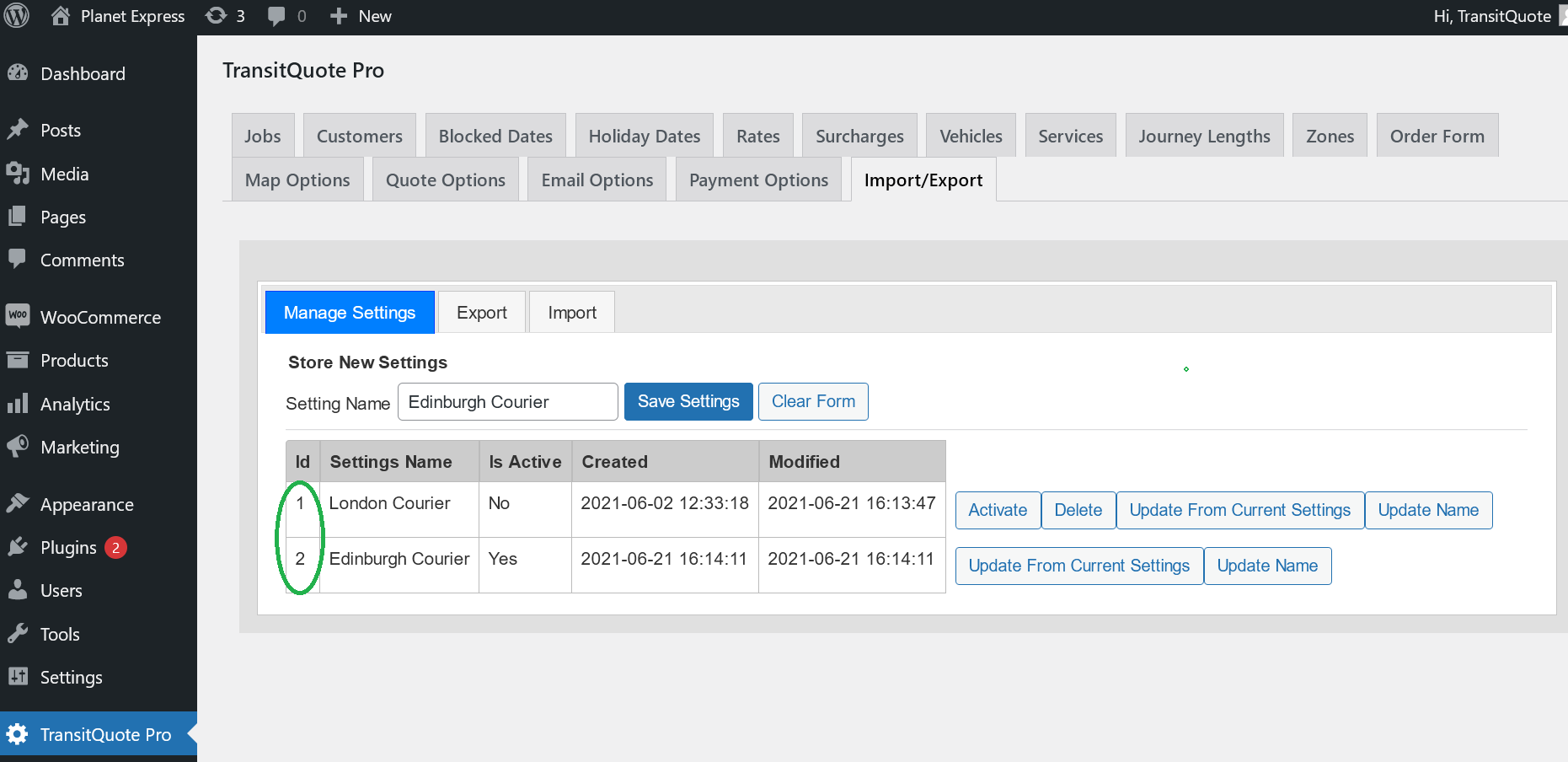 Whenever you add a form to a page on your website you can now use the settings_id shortcode to specify which settings the form will use.
[transitquote_pro setttings_id="2"]
When combined with the shortcode options for specifying vehicles, you can now have a completely different selection of services, vehicles and settings for each booking form.
For example:
[transitquote_pro vehicle_id="1,3"service_id="1,2" setttings_id="2"]
The above shortcode uses another new feature in this version: multiple vehicles or services can be specified in the shortcode.
This gives you control over which vehicles or service options appear in the drop down vehicle and service boxes in the booking form.
Changes in TransitQuote Pro 4.5.0
Settings can now be form-specific.
Vehicle and Service drop downs can now contain a specific list of vehicles or services rather than showing all items or no drop down.
Settings management tab update to store multiple settings configurations.
Job details view updated to use labels specific to stored settings.
Loading performance improvement.
TransitQuote API compatibility update.
Bug Fixes.
Where To Get TransitQuote Pro 4.5.0
TransitQuote Pro 4.5.0 is now available in the download area for current customers.
If you would like to try out TransitQuote Pro or any of the other plugins in the TransitTools suite please feel free to have look at the online demos here.