Installation
In the WordPress Dashboard go to Plugins > Add New >  Upload Plugin
Select the plugin Zip File and click Install
Click to Activate the plugin
Shortcode
To view bookings on a calendar view you will need to create a new page. A full width template is recommended.
On the new page add the following shortcode to a shortcode block [transittime_calendar]
The calendar will only be visible to logged in users who are have roles: Dispatch, Administrator or Driver .
Add a Service Duration for Time On Site For Each Service
On the TransitTime menu you will see you can edit the same Services and Vehicles as on the TransitQuote Pro menu.
The TransitTime tabs also include some new options for controlling the amount of time that is automatically scheduled for each service.
Does your businesses carry out a service that is billed by the hour for time spend at your customer's location?
If you offer a service and bill for a set number of hour plus travel time, you can specify the service duration (time spent on site) and use it to reserve time on your schedule to carry out the work.
The time scheduled for each job is the service duration plus the driving time as determined by the Google Directions API.
Reserving Additional Time For Extra Locations
If you operate a delivery or distribution service you may have multiple stops in a single customer job.
In this case you may need to allocate some additional time for each additional stop.
To do so just enter the number of minuites that you would like to allocate at each stop under Additional Duration Per Stop.
Full Day Services
A service can be specified as a full day job.
In this case the full day from the beginning to end of your business hours are reserved on your schedule.
Driving time is not used when scheduling a full day service.
Add Fleet Size For Each Vehicle Type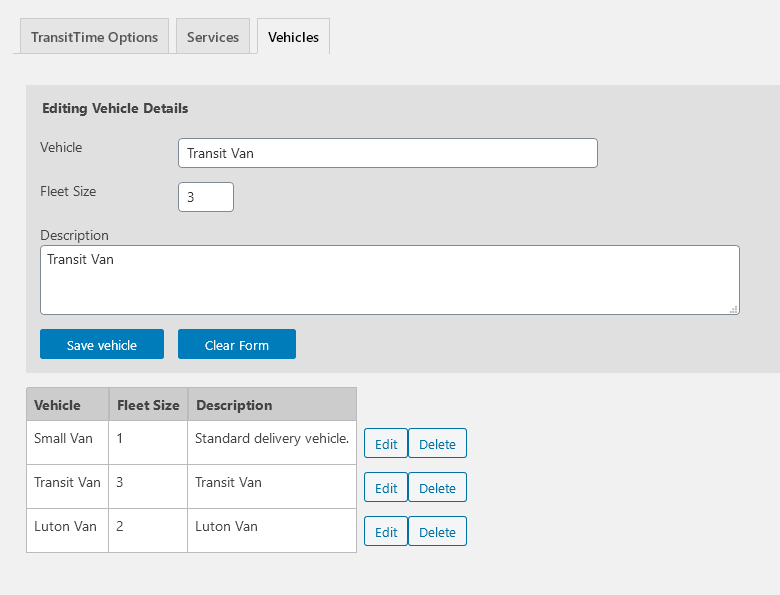 When working out the availability of a service at a given time we need to know how many of each type of vehicle your business operates simultaneously.
If you have 3 transit vans and 3 drivers you can accept 3 Transit van bookings during the same time period.